Noticed something brighter on your social media feeds? In regards to fashion… perhaps? A plethora of stars rocking something more than likely designer but much more vibrant than usual. Think back to the day when Kim Kardashian graced her presence at rapper 2 Chainz and his wife Kesha Ward's wedding, along with her hubby Kanye. Though Kanye got most of the media's and internet's attention due to his sandals that were a few sizes too small, Kim's neon green latex dress was really a sight to see. It truly made me realize how many times I've seen stars rocking neon this year, and instantly it hit me.
Neon just might be the new black. It was the fashion trend of 2018 that was under our noses the whole time. Hollywood is taking it back to the neon 80s, but modernizing it very well so that it won't be totally outrageous like the 80s. I mean, you don't see Kim K with larger-than-life hair or blue eyeshadow with cherry red lips that you can see from a mile away, but damn it if she isn't rocking that neon ensemble.
There isn't anything more invigorating than seeing a vintage trend being modernized and rocked to a tee. Maybe throwing out neutral colors and having neon be the fall 2018 trend could be risky… but necessary. Kim wasn't the only Kardashian-Jenner sister seen in a neon OOTD. Baby sister Kylie Jenner was seen side-by-side with her best friend Jordyn Woods rocking some neon numbers that were brighter than their cheek highlighter.
Enough of the K-sisters for a second! They aren't only stars that were spotted in this larger than life trend. Sarah Paulson stepped out of her usual neutral-to-dark attire that she's seen wearing on American Horror Story and into this striking, neon Prada number at the premiere of Ocean's 8 while Blake Lively looked more alive than ever in a neon green suit.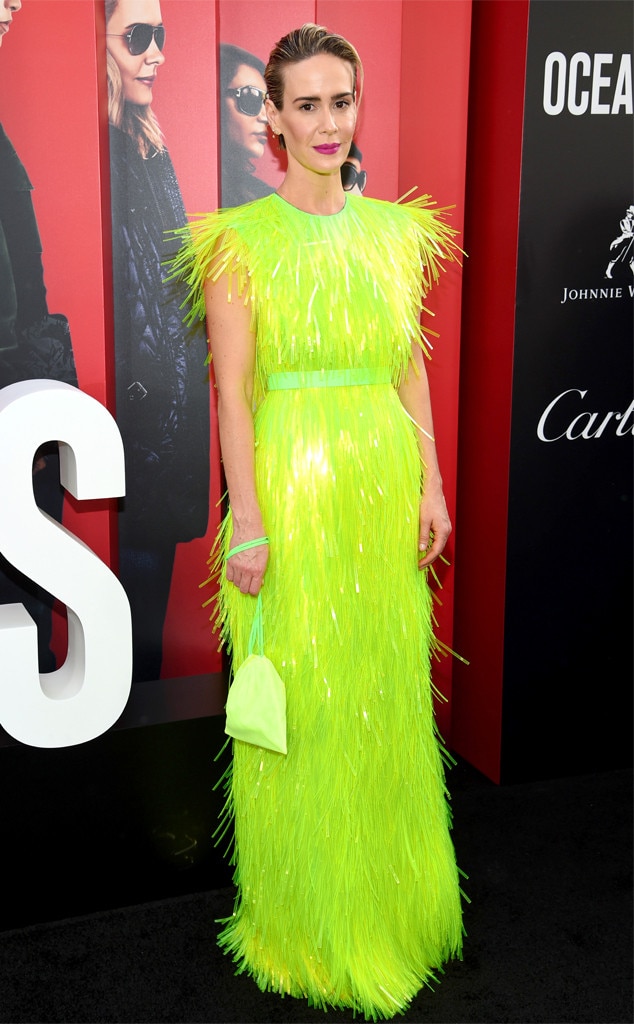 Neon fashion will be taking over our lives in 3, 2, 1.